Books designed for discovery.
---
Discovery. That's the hallmark of our manual therapy textbooks and educational resources. Content that ignites interest and encourages active exploration. Visuals that beautifully illuminate the nuances of the human body. Resources that inspire instructors to reimagine the ways they teach and enliven every classroom.
This is why Books of Discovery is one of the most respected publishers of foundational manual therapy textbooks, serving over 2,000 programs in nearly 40 countries.
Instructors: Order review copies of textbooks.
Trail Guide to the Body
Our top-selling flagship product.
Required by more manual therapy programs in the U.S. than any other text.
90

%
of Massage Therapy Programs
68

%
of Athletic Training Programs
66

%
of Physical Therapy Asst Programs
57

%
of Doctor of Physical Therapy Programs
Trail Guide to the Body: 5th edition
The most popular name in palpatory
anatomy.
---
Trail Guide to the Body is the best-selling textbook for musculoskeletal anatomy and palpation. Already in its 5th edition, more than 850,000 copies have sold worldwide.
No matter what program — athletic training, occupational therapy, physical therapy, massage therapy, exercise science, or any other manual therapy field — this text is the gold standard for empowering students with the essential skills, foundational knowledge, and confidence they need to succeed in their future careers.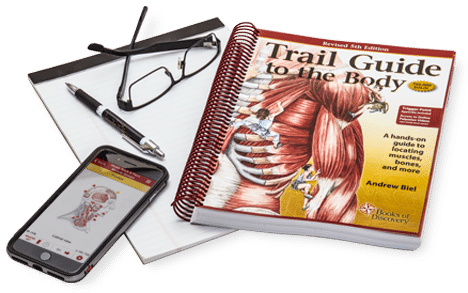 As a first year MOT student, my classmates and I have benefited greatly from Trail Guide to the Body. It's informative as an academic, and perhaps just as importantly, an emotional tool. Thank you for making this relatively dry subject exponentially more entertaining."
Trail Guide to the Body is the best anatomy book on the market. The ease of use and thoroughness of the material make it an irreplaceable book throughout the entirety of our program. I can't imagine teaching without it!"
Instructor resources
Complimentary tools to speed up class prep and keep you inspired.
See resources.
Simple to understand and a lot more fun to read.
Foundational manual therapy textbooks and educational resources covering musculoskeletal anatomy, palpation, surface anatomy, kinesiology, and pathology.