Books designed for discovery.
Discovery. That's the hallmark of our manual therapy textbooks and educational resources.
Approachable, easy-to-navigate content to encourage active exploration. Remarkably clear, engaging visuals that ignite curiosity about the human body. Resources that inspire instructors to reimagine ways of teaching and enlivening every classroom.
Instructors: Order your free review copies.
Explore our latest textbook editions.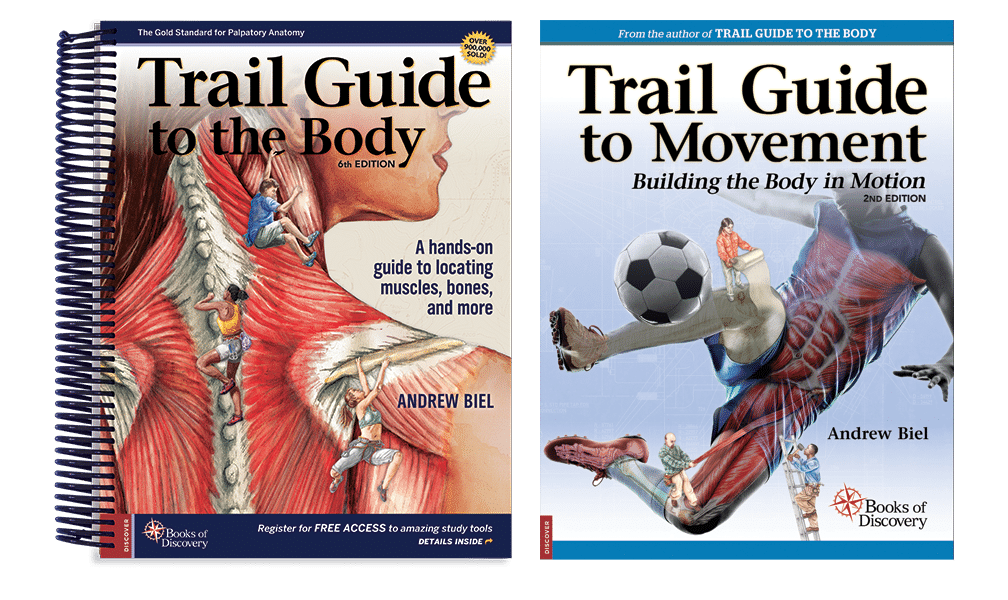 New Trail Guide editions
 Check them out!
Trail Guide to the Body, 6th edition.
Featuring updated, full-color illustrations, chapter introductions, and case stories for powerfully effective ways to deliver surface anatomy and palpation lessons.
Trail Guide to Movement, 2nd edition
This fascinating journey into the world of kinesiology goes even deeper, with 15 pages of additional vital content.
Trail Guide to the Body:
The most popular name in palpatory anatomy.
---
Trail Guide to the Body is the top-selling textbook for musculoskeletal anatomy and palpation. More than 900,000 copies have sold worldwide.
Trail Guide to the Body
Required by more manual therapy programs in the US than any other text.
91

%
of Massage Therapy Programs
76

%
of Athletic Training Programs
64

%
of Physical Therapy Asst Programs
56

%
of Doctor of Physical Therapy Programs
Instructor resources
Complimentary tools to speed up class prep and keep you inspired.
See resources.
As a first year MOT student, my classmates and I have benefited greatly from Trail Guide to the Body. It's informative as an academic, and perhaps just as importantly, an emotional tool. Thank you for making this relatively dry subject exponentially more entertaining."
Trail Guide to the Body is the best anatomy book on the market. The ease of use and thoroughness of the material make it an irreplaceable book throughout the entirety of our program. I can't imagine teaching without it!"